Hello it is has been a little bit since I last posted. I haven't posted in so long with the new layout I am not even sure how it works :/

Well we closed the pool down because it is colder here and right before closing it down we had a lot of rain. We have a deck and now one side is slanted. The pool guys think it is the rain washed away some of the dirt that belongs under the pool so that is why it is slanted. Not sure how we will fix this, but we decided to wait until next year. We will have to decide early so we can open the pool ontime. Just hoping nothing happens over the winter.

I go back in old post sometimes just to see what I have watched and done and realized I missed some of the drama I had watched a long time ago and that I love. So I am going to start with them. Then maybe in the next post whenever that maybe I will pick up where I left off :)



KDrama



Can We Get Married - This has Sung Joon and Sung So Min in it. Loved Sung Joon in Shut up Flower Boy band and Sung So Min was in Playful kiss which I also liked so I had wanted to watch this. This drama was about these two being in a relationship and some of the ups and downs they had especially dealing with their families and their engagement. This was on okay drama enjoyed some parts, but some of the parents actions I couldn't understand. Still at the end of it I am not sure I approve of the parents actions.

Unexpected You (My Husband has a family) - Loved this drama. It is about a couple that get married and he is adopted so he doesn't know who his family is, is wife likes it that way. He finds out who his family is and the drama begins between his wife and the family. The wife has a family of her own and you have all known in the past my Love for CNBLUE Minhyuk the drummer plays her brother in this. I crack up everytime the sister and him are together. Also loved the relationships the husbands sisters have. I think I fell in love with the one sister and the guy she works for the relationship was so cute. I have gone back and watched since from it again I enjoyed this so much.



7th Grade Civil Servant - I enjoyed this drama. Joo Won and Choi Gang Hee are in this. This was the first drama I saw with Joo Won he is a really good actor. This was about two people learning to be NIS agents. It shows some of the things they go through to learn to be agents, along with the other people learning to be agents. This was cute and I enjoyed watching it.

Gentleman's Dignity - Loved this drama. This was about 4 friends and the relationship that they have with each along with their wifes, girlfriends and family. The friendship between these four men is amazing. This drama had me smiling, and upset, and laughing. Good drama recommend watching.




White Christmas - Loved this drama. This drama still makes me think of the question are monsters created or born. This is about a group of kids that stay back at the school over the holiday. The one's that stay behind receive a letter that they are going to die. Each one suspects the other one of sending the letter. To make matters worse they invite in a stranger. You will have to watch it. Just to let you know there is violence in this but the story is still amazing at least to me. Some of the actors that were in this are my favorite I went looking for it because of Sung Joon, but this also has Kim Woo Bin, Kim Young Kwang, Baek Sung hyun Lee So hyuk, Kwak Jung Wook, Jung SUk Won, HOng Jon Hyun, Esom, and Kim Sang Kung.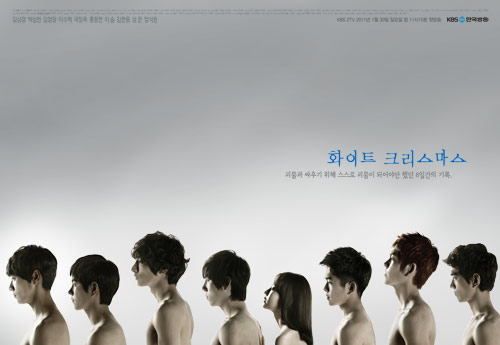 Love in Memory - I liked this drama. This is a story of a girl that is with her boyfriend and runs into her ex-boyfried. Then she remembers her past relationship with a guy. I liked Joo Joon Hee from Unexpected You (she was one of my favorite characters) that I wanted to watch this. This had some sad moments, and some aw moments in it.

Nine: Nine Time Travels - Enjoyed this drama. It also had Joo Joon Hee in it (one of the reason why I wanted to watch it). This is about a guy who received 9 incense which when he burns them he can time travel back 20 years. He goes back trying to prevent some things that happened, and he finds out things that happened in the past, everytime he goes back it something changes in the future. This drama introduced me to Hyunsulk from ZE:A he played the character in the his younger years.

Nail Shop Paris - This was one of the drama's that I liked but I am not sure I would watch again. This story is about a girl that is writing a story about the fox with nine tails. She runs into a guy and she thinks he is an inspiration to use in her story. So she starts working at Nail Shop because he is there. This story was okay but I didn't like some of the storyline it didn't make sense at first. Later on it made more sense but it would have these little scenes that she would be thinking up for her story that never made any sense. Well at least to me. I have written in the past my love for MBLAQ and Thung Previouly in MBLAQ was in this. (I will have to get into my post of sadness over MBLAQ later) :(

K-Movie
100 Days with Mr Arrogant - Korean Movie I enjoyed watching this it was about a girl being dumped by her boyfriend before the 100 days. She accidetnly hits a guy and causes a scratch on his car. He demands she pay for it but she can't afford to so for 100 days she has to work, and clean and do whatever he asks.



Now I have finally posted the drama's I watched in 2013. I didn't realize I missed these. Hopefully I will be back before the year is out with another post for the drama's in 2014 LOL! And to update on my Kpop obsession. It seems to be slowing down just a tad not a lot but there are so many new groups that debut over the past year that I love!!