Well it has been awhile since I posted and I'm still watching Kdrama's. My life is still a little upside down in the house but I think within the next few weeks everything might be settling down and I may have my PC hooked back up where I can use again.

Since I am sharing my pc with my niece and sister I am still watching different drama's just not as many as before, along with Barefoot Friends.

Barefoot Friends is a variety show and has Kim Hyung Joong in it. If everyone remembers he was in Boys Over Flowers and was the beginning of my obsession with K-drama's and Kpop. While watching Barefoot Friends I have learned to like the other people on the show, especially Eunhyuk (from Super Junior) and Yoon Si-Yoon (who was in the drama Flower Boy Next Door). I really didn't know who the others where but with each episode I like them more and more as I get to know them. Sad that the one is out because he is injured and the other member left permanently.

Three of the drama's I was watching just ended and the other one last episode this weekend. So now I have to decide what to watch next. Is it going to be one that is just starting or go find one from my list of many others I want to watch. Decisions decisions.

The one's that I am currently watching is
Your the Best Lee Soon Shin Shoo (Really enjoying this series, it is one of the longer series with 50 episodes and we are up to 41). I started watching it when there was like 6 episodes available. It's centered around Lee Soon Shin and her family members, and her trying to become an actress.
Monstar (love this series and it is ending this weekend) This one is about a K-pop idol that is trying to lay low and behave himself by going to school. At school he gets to meet some of his classmates and they become a group called the color bars for a school competition. Yong Jun-Hyung from the group Beast is in it and yes I have been listening to some Beast songs and like them.
Dating Agency Cyrano (This is cute so far) I think it is over now but I am on episode 10 and have 6 more to go. What I am enjoying is the guest that star in different episodes. Like Taemin from Shinee was in 2 or 3, Lee Kwang-soo from Running Man and in the 10th episode Goong Yoo from Coffee Prince is going to be in it. I know there are other stars but they are the main one's I am familiar with. This show is about a dating agency that people pay them to hook them up with someone they like.

Just finished
Mischievous Kiss Love in Tokyo (loved this) it was really cute and followed the manga really well. Just in case you don't know the manga it is Itazura Na Kiss. (which also has an anime and there was a Korean Drama called Playful Kiss). Next on my list is to be the T-drama verison It started with a Kiss. LOL can you tell I like this story :)

I hear Your Voice (LOVED LOVED LOVED This series).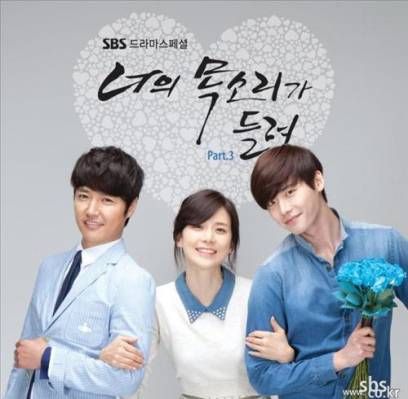 This was one of those that was amazing from beginning to end. At some points in the drama I had to clue which direction the story was going. It is about a young boy whose father is killed in front of him and two young girls who witnessed the murder. It centers around both the boy and the girls and the murderer. Once the one girl grows up she is a public defender, the other girl is the prosecutor, and the young boy has been trying to find the public defender for many years. He wants to protect her. The story has it all suspense, comedy, and romance. It has a little of everything and was so amazing. Just a side note: The boy grown up is played by Lee Jong Suk who I loved in School 2013!! The other public defender he was cousin in Secret Garden and I loved him. It cracked me up when I realized that both of these two guys where the characters in Secret Garden. So it made it even more fun for me to watch when they where in scene's together. I would recommend this series that is how much I loved it!


I did finish a book which I had been reading since September and started another one which I am reading much faster. I will write about them when I get my PC back (Sure I will when was the last time I wrote about any books) Hmm just wondering.

My daughter wants me to watch the anime Space Brothers. So I promised her I will watch an episode this weekend. I guess that has made my decision of what to watch next. LOL!

Wow it's been so long I am not sure if I even remember how to do cuts. That is what happens when you don't update in a while. Oh well I will be back with the other K-Drama's I have watched. Some where really good and others where okay. I don't think I have watched any yet that I haven't liked. Some of them are not as good as others but they still entertained me. Maybe I will actually post the two books and one two manga I have read since September.