Over at one of the groups I belong to they are having a competition for you to write down your favorite Bl couple. At first I immediately thought of Atsushi and Masayoshi from Kusatta Kyoushi no Houteiski by Kazuma Kodaka, then when waking up Sunday morning I was thinking of what icon to use (I know silly) and I thought of one of my other favorite couples Chiaki and Eiji from Cut by Toko Kawai. So I really can not make up my mind so I will do both. I have many other favorite couples. But I will go with these two for now (Smiling)

Atsushi and Masayoshi from Kusatta Kyoushi no Houteishiki by Kazuma Kodaka.
I love this story for multiple reason. It starts out with Atsushi joining a school because the person he has a crush on for many years Masami Shibata is a teacher there. What he doesn't realize at first is he has mistaken the wrong brother Masayoshi as being Masami. As the story unfolds we see Atsushi start to change who he has a crush on from Masami to Masayoshi. The series is 10 volumes long and it shows Atsushi growing up. From being a high school student to graduating and getting a job. All through the volumes he has been trying to get Masayoshi to like him. It is fun to watch him everyday cling to Masayoshi and Masayoshi reactions to him. Through out the entire story there are other characters that you fall in love with but I still rooted for Masayoshi and Atsushi to get together. We see Masayoshi having to figure out his feelings for his brother, and then coming to terms with whether he likes Atsushi or not. The interesting thing that also develops during all of these volumes is the way Masayoshi looks. In the beginning he looks more manly and towards the end his looks have changed to being more famine he resembles his brother Masami. It is interesting to see this happen as K2 style changes and they grow older.

I love K2 works her stories always makes me happy to read them. The characters just have a feel about them that makes me love them. I was so happy when June had picked up the license for this story. This was the only Yaoi story that I actually took the time to print all of the volumes. Went through a lot of paper and ink, and it is sitting in a box. I am really happy that I will be able to actually buy the volumes where they won't take up as much room and be able to read this over and over again.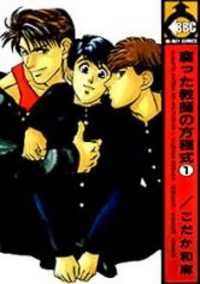 Credits for the 1st images Kusatta Kyoushi no Houteishiki by Kazuma Kodaka.
2nd image from Kusatta Kyoushi no Houteishiki by Kazuma Kodaka translated by megk

Chiaki and Eiji from Cut by Toko Kawai.
Cut is a very emotional story. There is violence, tradegy and self abuse. Also it deals with psychological issues. This is about two high school boys with very different backgrounds. Chiaki is being sexually abused by his step father and cuts himself for the way he feels about himself. Eiji has emotional trauma from when he was young. This story starts out with Eiji witnessing Chiaki being with his step-father at a playground. Then they run into each other at school. These two end up seeing each other to deal with the pain they both have within them. Chiaki wants Eiji to be rough with him so he can forget about his pain, and Eiji wants to be gentle because he doesn't like pain. As the book progresses you can tell how they start caring for each other and start to deal with their inner demons. By the end of the book they both have made progress with who they are and where they want to be in life. They both still have issues to contend with and everyday they try to get over them. They may always have these issues but there is so much hope for their future. It is a good ending to a wonderful book!

This was licensed by June




Credits 1st image June license Cut by Toko Kawi
2nd image from Cut Toko Kawi translated by mochi mochi