Okay it has now been almost 2 months since my last book update. Total fail. So I am going to try and finish June books. So this will be a longer post. Sorry!

Anyway work I know do I only ever talk about work. But that is what I do the most. Work, read, livejournal comm facebook and a little television. Not really a lot happens in my life. Well at Work I have 2 days off now. I get Sunday/Monday I like have two days off. (with the exception of the next two weeks we have training so I will have to work 6 days). But my boss is nice and lets me have off 3 days this week and then 3 days after all of the training. He does this since I am salary and doesn't think it is fair that salary people don't get paid. If your not salaried then he pays you. Work is going to be crazy after that. They are putting in a new system Control-M it will go live middle of December. That is what the training is for. On one hand I am scared of changes on another it is something that I can add to my resume if something happens to my job.

Rachel Caine comes back to Exton next Tuesday. I am so excited for Ghost town. I had finally joined her Livejournal and she has been giving quotes each day. It just makes me want to reader it sooner :D But I am going to wait until she comes in so I can get it signed.

Onto what ever I wad doing in June of last year. (just to let you know I don't always remember what happened in the manga I read since it was a year ago and I have read the other one's in the series since).

Books - Jessica's Guide to Dating on the Dark Side
Jessica's Guide to Dating on the Dark Side by Beth Fantaskey - Loved this book! This is a story about Jessica who doesn't realize she is a vampire at first. An exchange student Lucius from Romania shows up in school and is living at her house. He tells her, he is her betrothed. She really doesn't like him and his arrogant ways. She actually likes a boy Jake that is in her class. She starts getting closer to Lucius, and finding out more of her life as a Vampire. I just loved everything about this book. Jessica made me smile with some of he way she was treating Lucius at first, and I loved Lucius.

Looking forward to the next book to see what happens to Jessica and Lucius next. (Will be coming out in the fall of 2011). I got to meet Beth Fantaskey when Jekyll Loves Hyde came out. She was really nice and was giving hints about one or two things that will be in the next book. :)




Manga - Captive Hearts, I hate you more than anyone, Mixed Vegetables, Inubaka, Skip Beat, Minima
Captive Hearts vol 2 - This series makes me laugh. Megumi is crazy in the way he acts over Kuzuka. I know some of it is the curse that he is suppose to follow the orders of the Kogami family but he goes way overboard with his reactions to everything. In this volume Megumi tries to become a more formal servant. When a Heir arrives and claims Suzuka is his bride Megumi acts even crazier then normal.


I hate you more then anyone vol 6 -

In this volume Arata confesses how he feels for Kazuha. Also she meets a new person that has some close connections to Sugimoto. Her friend and Honjo make me laugh. I love how she is always thinking of Honjo as Droopy eyes. How does she react to the confession, does she like Arata or does she have feelings for Sugimoto. You will have to read to find out :)



I'm so sad that CMX shut down this year and didn't get a chance to finish this series. It is one of my favorites. There where only like 3 volumes to go :(

<

Mixed Vegetables vol 2 - This is a cute series that I am enjoying. In this volume both Hanaya and Hayato go on a date and realize that both of them are thinking the same thing that they want to marry the other just to be in the family for the things that they want to be a Sushi chef or Pastry Chef. Needless to say the date does not go well. Will these two continue to be friends, and try to follow their dreams. Or will they not get along and not follow their dreams of becoming a Sushi Chef or a Pastry Chef.




Inubaka vol 9

- In this volume Suguri goes to a ranch where they are breading puppies. She learns how the ranch is operator. She meets a new guy Minoru that works on the ranch. At first these two don't get along but as time goes on she finds out more about him and how he cares for the dogs. Also in the last chapter Woofles has a phot-op for all of the regular customers and their dogs.

<

Skip Beat Vol 18 - This is still one of my All time favorite Series!! LOVE IT!! In this volume Kyoko is now a personal assistant for Koo Hizuri. While being this personal assitant she has to try and create a boy and stay in this role while she is with him. Kyoko has to figure out what kind of character this boy should be. In this volume there is a major surprise that relates to Ren. I will not give any spoilers but if you love Skip Beat this is a must read volume!!

<


Minima vol 3 - In this volume Nicori decides to leave Ame and goes and joins the park where he was originally found by Ame. How will this affect Ame and how she feels for Nicori. Is this really the right decision that Nicori made. This volume made me sad in some of the parts.

<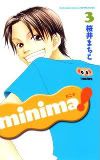 Yaoi - Hero Heel, White Brand
Hero Heel vol 3 -
This is the final book in the series. In this book the actors are wraping up the end of Airguards. Sawada and Minami will be done acting together. Will they stay cold and keep avoiding each other. Or will they end up trying to help each other out at the end. I liked the ending and I will not give spoilers but I feel bad for some of the characters, and happy for others. I think this story could of ended another way I would of just as been as happy. If you have read the other 2 books in this series I recommend reading the last volume.
<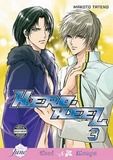 White Brand - I enjoyed this volume. It has different stories in it. One of them being about cousins that when they where little they got along, now they are in school together and the one is not happy that the other is there. Another story in this book is about an actor that lives with two other actors. For a part he has he needs to find out what it is like to have children so he borrows his sister's child. There are 3 other stories in this
volume.
<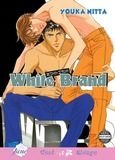 Movies
Some Kind of Wonderful. Love this movie. There is just something about it that I enjoy so much!!

Star Trek the Movie - This was good. I saw it in the movie theater it shows how they all where when they where younger and how they came to be on the Enterprise

Color Purple - The end of this movie still makes me cry.

He's just not that into you - this was an okay movie.

The Devil Wore Prada - Enjoyed this movie

Sorry for the massive post. But at least June's 09 is now done :D